YOUR
Donations

HELP US SUCCEED
The Chris "CJ" Johnson Foundation Inc., established in 2013, is a 501 (c)3 non-profit charity organization based in Sugar Land, Texas. The primary goal of the foundation is to increase awareness of Renal Medullary Carcinoma (RMC), while focusing on those individuals with the sickle cell trait, who may potentially be at risk for this rare and aggressive cancer. Donations/Grants will also be utilized to educate the public and financially support individuals with medical costs as it relates to RMC. In addition, the foundation will offer financial support to MD Anderson Cancer Center to further the research of RMC.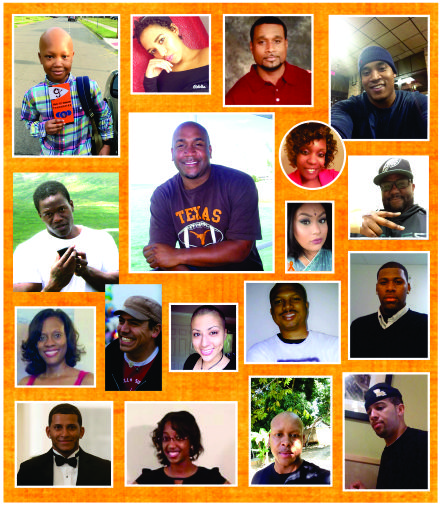 In order to achieve the goals of this foundation, it is important to establish partnerships with primary care physicians, urology specialist, oncologists, hospitals, news media, legislators and community organizations. Collaborative multi-institutional efforts are needed to better understand the biology of RMC. Heightened awareness may potentially enable individuals with the sickle cell trait to better understand the importance of pursuing early diagnostic testing.
WHAT IS OUR NEXT STEP?
There are many foundations and medical facilities conducting research on breast cancer, lung cancer, colon cancer, etc., but very little on kidney cancer and specifically RMC. We are advocating for a CHANGE. It is our desire for individuals that have the sickle cell trait to become aware of the potential risk of RMC. It would be appropriate for these individuals with the trait and persistent or recurrent renal symptoms to have radiological studies (CT Scan) and a comprehensive urinalysis. Getting the word out is the greatest gift that I can give to my son.
We must work together to support the researchers, medical professionals, advocates and organizations dedicated to treating and curing this illness. To honor the memory of the loved ones that we have lost or that are fighting for their life, let us drive progress to enhance cancer prevention, detection and treatment.
Together we will emerge stronger and with renewed hope for a better future!!!!
Please share this website with others and like us on Facebook. We need a village to get on board.
Board of Directors: Ritchie W Johnson, President/Founder; Angela Hawks-Johnson, Director/Secretary; Marc Johnson, Director
LATEST NEWS