5th Annual Keepin' It Renal Run/Walk Update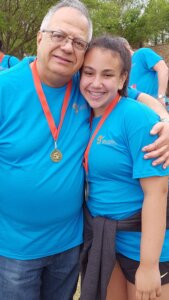 On March 24, 2018, over 200 warriors hit the track in Sugar Land Texas as advocates for Renal Medullary Carcinoma. Our speakers from MD Anderson; Drs. Tannir, Dr. Masaouel and Zita Lim gave an update on RMC research. They did a phenomenal job. My grandson, Marc Johnson II did an excellent job explaining to the audience what happens with your blood cells if you have the sickle cell trait. Our event would not have been successful without our generous sponsors, participants and vendors. Our 2018 Sponsors are: Platinum – $2,000 or more: Curtis & Janet Threat; Marc and Angela Johnson with AT&T. Gold – $1,000 or more: Paul Ryan Windows – Mr. Kethley, owner, Fish City Grill – Randall Sjolander, General Manager. Silver – $500 or more: Dr. John Boon – Boon Urology Sugar Land, John and Juanita Allen, First Colony Health & Rehab – Elisabeth McGee, Administrator. Bronze $250 or more: Nancy Wenning, Teresa Lange – BNY Mellon, Dr. Brian Anderson – Life Essentials Chiropractic, Lucille Carter, Vanessa Stokes, Beverly Arthur – BNY. Friends of Chris – $100 or more: Gloria Tubbs, Rick Little.
Other Donations: Houston Methodist Sugar Land- Back Packs,  Randalls – Water, Gringos- Gift Basket, Pot Belly's – Sandwich coupons, Sterling McCall Lexus – 3 Day Week-end Lexus Car and Complete Car Detail, Fish City Grill – Gift Certificates.
A special thank you to our vendors: MD Anderson Cancer Center – Jennifer Martinez, Life Essentials Chiropractic – Dr. Brian Anderson, As One Foundation, First Colony Health & Rehab, Elisabeth McGee, Sickle Cell Houston – Nakia and Results Physiotherapy-Meyerland Clinic – Jacoby Cotton.
Thank you to our volunteers: Clements and Elkins High School students, James Hamilton, Robin Terrell, Bob Bilski, Angela Hawk-Johnson, Eric Johnson, Marc Johnson, Willie Cobbins, Joey Cox, Teresa Lange, Dennard Pierce, Kandace Garth (bunny rabbit), Marc Johnson, Lump Mayberry (Photographer), Reggie Oliver (Videographer) and Bob Ewell (DJ).
For the third year in a row, we have been able to donate $3,000 to MD Anderson Cancer Center for RMC research and $1,000 to Stimuli for college scholarship. We continue to assist patients that have been diagnosed with RMC by offering financial and emotional support.
Because of our supporters we are able to continue our mission of creating RMC awareness, educating the public and donating to RMC research at MD Anderson Cancer Center in Houston Texas.