YOUR
Donations

HELP US SUCCEED
The Chris "CJ" Johnson Foundation Inc., was established in 2013, by Ritchie Johnson in memory of her son, Chris, who passed away in 2012. This foundation is a 501(c)3 non-profit charity organization based in Sugar Land, Texas. The primary focus of the foundation is to identify individuals with sickle hemoglobinopathies such as sickle cell trait (SCT), who may be at risk for renal medullary carcinoma (RMC), a rare and aggressive form of kidney cancer. We offer programs that heighten awareness, educate and promote advocacy to increase public understanding, and ultimately a cure for RMC. Additionally, the foundation donates annually to University of Texas MD Anderson Cancer Center located in Houston, Texas to advance RMC research.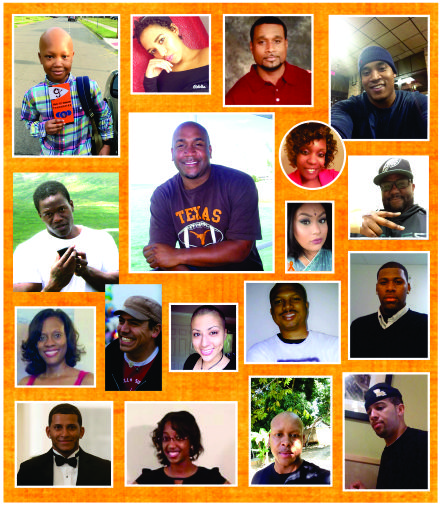 Our mission is to be a global community dedicated to creating awareness and alleviating healthcare disparities for individuals diagnosed with RMC through advocacy, education and research. Ultimately, all persons affected with RMC will have equal access to institutions that are leaders in cutting-edge research.
Our vision is to eliminate healthcare disparities and find a cure for renal medullary carcinoma (RMC)
WHAT IS OUR NEXT STEP?
We are advocating for a CHANGE.
There is a need to increase awareness in communities with a high prevalence of sickle cell trait and other sickle blood disorders. We must work together and with support from our state and Congress, we can and should eliminate healthcare disparities. Dr. Nizar Tannir, world-renowned physician at UT MD Anderson Cancer Center, eloquently stated, "This under-appreciation of the true prevalence of RMC is an example of healthcare disparity. This is why we need to double our efforts to help the RMC community."
We must drive processes to end healthcare disparities and to enhance cancer prevention, detection, and treatment programs. The lives of RMC patients matters and they deserve to receive quality care.
Together we will emerge stronger and with renewed hope for a better future!!!!
Please share this website with others and like us on Facebook. We need a village to get on board.
Board of Directors: Ritchie W. Johnson, President/Founder; Marc Johnson, Executive Director; Angela Hawks-Johnson, Director/Secretary
Medical Advisors: Nizar Tannir, MD, FACP, The University of Texas MD Anderson Cancer Center, Houston; Pavlos Msaouel, MD, PhD, The University of Texas MD Anderson Cancer Center
LATEST NEWS