A Successful 2022 Keepin' It Renal Global Run/Walk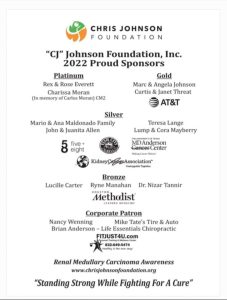 The Chris "CJ Johnson sends a huge thank you to our sponsors. You played an integral part in the success of our 2022 9th Annual Global Keepin' It Renal Run/Walk. In addition to the list above: Bronze sponsors: Drs. John & Camille Boon (Boon Urology), Marcel & Cydnee Threat, Corporate Patron: Jarel Threat.
Special thank you to JoAnn Goodie-Charles with FitJust4U for the warm-up and Angie Gooden for the shirt design and performing the opening and balloon release songs. By the way, the balloons were biodegradable.
A heartfelt thank you to Ana, Andre & Carrin, three RMC patients for taking the time to join us. We love you guys. Thank you, Drs. Tannir and Msaouel for your dedication to finding a cure for RMC. A check for $9,000.00 was presented to UT MD Anderson Cancer Center to accelerate RMC research.
Maria, you did a great job in coordinating Team Greece. We thank you and appreciate all you do to raise awareness in Greece. We thank the runners and walkers in Colombia and all of the states in the USA for your participation.
Thank you to our board members, volunteers and participants for making our event successful. We look forward to seeing you next year for our 10th Annual Keepin' It Renal Run/Walk.