Highlights of the 3rd Annual Keepin' It Renal Run/Walk
This year's Annual Keepin' It Renal 5K Run/Walk that was held in Sugar Land Texas May 21, 2016 raised $8,631.95. Because of our supporters we were able to donate $3000.00 to MD Anderson Cancer Center to advance RMC Research; $500.00 Scholarship to Divinshia Jackson, a 2016 graduate of BF Terry High School. She will be attending Texas State University to earn a degree in Nursing. We have also financially assisted several adolescents and young adults that have been diagnosed with RMC.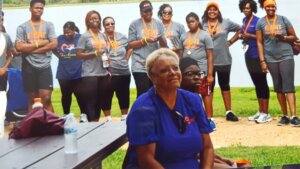 More that 360 people donated at the event and more than 270 people participated in the actual event. This year's event did not just honor Chris Johnson; 26 family members and friends, who called themselves Team Sandra, walked in memory of Fort Bend County's Sandra Prevost, who died in March 2016 from Renal Medullary Carcinoma. Sandra was 48 years old and a registered nurse at Houston Methodist Hospital.
The Board of Directors would like to thank all of our participants for supporting our efforts in creating Renal Medullary Carcinoma Awareness and helping us to make cancer history. We received the following sponsorships: Gold Sponsors: Virtus Partners Holdings, Rex and Rose Everett, Curtis & Janet Threat. Silver Sponsors: John & Juanita Allen, Dr. Carl Ogletree, Willie Cobbin. Bronze Sponsors: Bank Of New York Mellon, Horiba International, CM Construction and Remodeling, Nancy Wenning. Friends of Chris Sponsors: Brigitte Echols & Family, Lucille Carter, Eric Blair, Sherran Manning, Ray Higgins, Gretchen Vaughan, Bob & Linda Bilksi.
A special thank you to Sugar Land Houston Methodist for donating the back packs, Randalls for the water ad bananas, Gringo's for the gift basket, Costco and HEB for gift cards.  We thank Pastors Ladell and Gwendolyn Graham for The Champion Center for having the largest team. Thank you Raw Impact MC for making us your charity of choice and all of our volunteers who came out early to help us set up. We also thank the following vendor: Sugar Land Skeeters Swatson Mascot, MD Anderson Cancer Center, As One Foundation, Nerium International and Spectrum Travel for coming out to support us. Thank you to our photographer, Lump Mayberry who provided us with excellent pictures.
Because of each of you, our event was a huge success. We had so much fun as we all came together for one cause…to create RMC Awareness and to remember those who fought hard for their life, but succumbed to this terrible disease. Chris, 39 passed away in September 2012. Because of his dream to create RMC Awareness, the Chris Johnson Foundation was formed.
As we remembered all those that lost their battle to RMC , Balloons were released to the song, "Gone Too Soon" by Michael Jackson.  So beautiful and breath taking as we watched the balloons travel toward heaven.
Together We Will Make A Difference in the lives of Others..