Ritchie Johnson interviews with Voyage Magazine
Meet Ritchie Johnson of Chris "CJ" Johnson Foundation in Southwest of Houston
A special thank you to the staff at Voyage Houston Magazine for allowing me to share my journey with my son, Chris.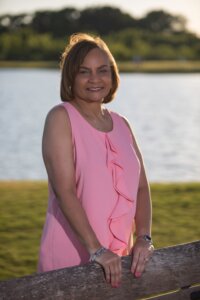 Today we'd like to introduce you to Ritchie Johnson.
Ritchie, please share your story with us. How did you get to where you are today?
At the age of 38, my youngest son, Chris was diagnosed with Renal Medullary Carcinoma (RMC). This cancer is a rare, aggressive and fatal kidney cancer that tends to affect individuals with sickle cell trait.
Prior to Chris's diagnosis, he lived a remarkable life. In 1997, he earned a Bachelor of Business Administration degree from the University of New Mexico. After working for several companies, he found his niche at Shell Oil Company. This position included responsibilities that entailed world travel.
In June 2011, our world changed in a matter of seconds. Chris was diagnosed with the disease that no one wants to hear, Cancer. I became speechless as my son laid rigid on the stretcher. It is impossible to describe how I felt at the time, but one thing that I knew was that I had to pull myself together and face the fact that my son had been diagnosed with a catastrophic illness. I felt helpless at times because there was little I could do to help alleviate the pain Chris endured. I resigned from my job as Director of Women's Services at a hospital in Houston so that I could fully care for my adult son. I not only was his mother but now, his caregiver and advocate. Unfortunately, 40 plus years as a registered nurse did not prepare me for RMC.
Each day was so different for us, not knowing what to expect day to day. For 15 months, my son fought for his life. He transitioned to Heaven at the age of 39.
In honor of Chris, I founded the Chris "CJ" Johnson Foundation in 2013. While Chris received treatment at MD Anderson Cancer Center, he noticed a lack of advocacy for kidney cancer and of course there was not any information about RMC and its link to sickle cell trait. It was because of his desire to educate others that inspired me to form this organization.
The Foundation raises RMC awareness, support individuals diagnosed with this disease and donate funds to advance RMC research. The logo was developed by Chris while battling his cancer and is now used for our organization.
In May 2017, I published my first book titled, "Mama I'm Tired" A Mother's Journey Through Her Son's Cancer Battle With Renal Medullary Carcinoma. This book is a reflection of the unconditional love that I demonstrated toward my son while he endured this catastrophic illness that eventually led to his death. After losing my son 15 months after diagnosis, I was able to turn my tragic loss into something positive by becoming an advocate for RMC.
Overall, has it been relatively smooth? If not, what were some of the struggles along the way?
Our largest challenge during the 15-month journey was with the insurance company. Each claim was denied due to the case manager classifying Chris's illness as a pre-existing condition. It wasn't until the Texas Department of Insurance became involved that the claims were paid.
Forming an organization that brings awareness to a rare disease that primarily affects African Americans is extremely challenging. Federal funding for medical research in this area has been scarce due to the rarity and poor prognosis of individuals diagnosed with RMC.
Despite the fact that RMC has been described in the medical literature for over two decades, many questions remain unanswered, and addressing them is critical in order to optimize the future care of this patient population.
We will continue the fight against RMC through: Research, Advocacy, Education and Support.
Please tell us more about your work, what you are currently focused on and most proud of.
The Chris "CJ" Johnson Foundation's goal is to increase awareness of RMC while focusing on individuals with sickle cell trait who may be at risk for this rare and aggressive kidney cancer, educate stakeholders, patients, families and health care providers. We also support the efforts of advancing RMC research at MD Anderson Cancer Center.
We are the only organization is Texas that focuses on renal medullary and sickle cell trait. We have partnered with other community-based organizations and hospitals to heighten the awareness of this deadly cancer.
I am proud to say that because of our advocacy efforts, more people and medical professionals are aware of RMC and MD Anderson Cancer Center has two clinical trials specifically for RMC patients.
Our largest fundraising event is the annual Keepin' It Renal Run/Walk. The fundraiser was organized in 2014 and continues to grow each year. Being a support person for patients and families is extremely rewarding and we would like to continue being a beacon of light in their lives.
Any shoutouts? Who else deserves credit in this story – who has played a meaningful role?
Dr. Nizar Tannir and Dr. Pavlos Msaouel are very passionate about finding a cure for RMC and are in the process of organizing the RMC Alliance of Texas. This organization will be comprised of physicians, scientists and advocates to study and understand the biology of RMC.
My son, Marc and his wife Angela, have been very supportive and active with the foundation. Our major supporters are: Dr. John Boon, a urologist in Sugar Land, Dr. Brian Anderson with Life Essentials Chiropractic, MD Anderson Cancer Center, Houston Methodist Hospital Sugar Land, Curtis & Janet Threat, BNY Mellon led by Teresa Lange and Fish City Grill to name a few. There are so many others that are advocates for our cause.
Contact Info: